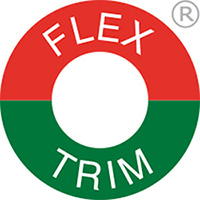 country: Denmark
branch: Sanding consumables
founded: 2003
Flex-Trim
Brushes made by Flex-Trim provide optimal treatment for bare and coated metal. They are used for sanding flat, curved and shaped surfaces of parts and workpieces. This is a top level class of brushes. When manufacturing the abrasive material, specially prepared rounded grain is used to provide a surface with low roughness.
Brushes contain a double row of fibers made of the Mexican cactus that provide consistent performance of abrasive strips, giving them no opportunity to fall over the brush while working. It also allows cutting narrow strips safely for treatment of shaped parts.
Brushing elements are fastened into an aluminum profile.
Such brushes in many cases can be placed in the drum through a segment, which usually makes them go two - three times longer before replacement compared to normal level brushes. Therefore, brushes are available with greater variations in height.
Products of Flex-Trim
in our catalog
Consumables for grinding machines
series
Go