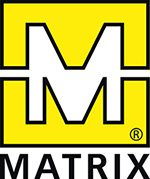 country: Italy
branch: Punching & forming tools
founded: 1982
Matrix
The Matrix S.r.L. company is located in Schio, Province of Vicenza, which is in a developed industrial region. Its up-to-date production facility spreads over an area of about 2,500 m². The company was founded in 1982 and since its inception all the profits have been reinvested on its technological and intellectual development.
Matrix S.r.L. owns 2 patents on Multitool-type utensils. Matrix S.rL has also developed and patented a technology which expands the useful life of XMTE6 series tools 3 times longer by adjusting the height of the punch.
Currently, the company specializes in tool production for coordinate punch presses designed by all the world's leading manufacturers:
AMADA.
FINN-POWER.
LVD.
RAINER.
TRUMPF.
WIEDEMANN.
EUROMAC.
SCHIAVI.
IMAC.
DURMA.
HACO.
FICEP.
GEKA.
IMS.
OMERA.
MUBEA.
PEDDINGHAUS.
KINGSLAND and others.
Products of Matrix
in our catalog
Punching & forming tools for coordinate punch presses
series
Go