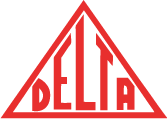 country: Italy
branch: Sheet metal fabrication, metal cutting
founded: 1955
Delta
During its lifetime, the company has produced and sold more than 15,000 machines worldwide.
DELTA was one of the first Italian machine tool manufacturers that were certified according to the new standard UNI EN ISO 9001/2008.
DELTA surface grinding machines are designed for a wide range of applications. Due to our vast experience, we can offer the most effective surface grinding and punching tool sharpening solutions. Large range of models, different automation levels and many options permit machine configurations that perfectly meet the requirements of the client.
The machines that we produce are made of carefully selected components and materials, have the best technological solutions, and that gives our machines advantage in compare to other competitors in the world market.
55 years of experience in the machine tool industry.
Perfect quality control system.
Best technological solutions.
Certification according to the ISO quality standards.
Made in Europe.
Products of Delta
in our catalog