Notching presses
Profile product
2
/5
Technological flexibility
5
/5
Construction quality
read more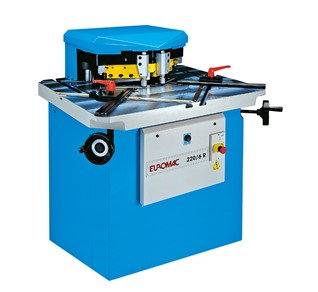 2
Functions for rectangular notching and cutting; variable angle cutting
Profile product
3
/5
Technological flexibility
5
/5
Construction quality
read more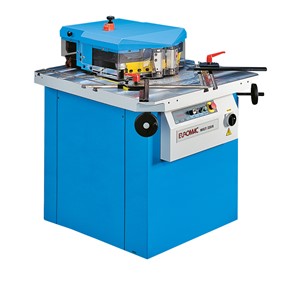 2
Functions for rectangular notching and cutting, punching, radiusing, variable angle cutting, bending, pressing
Profile product
5
/5
Technological flexibility
5
/5
Construction quality
read more
Notching presses are designed for notching and cutting metal sheets with thickness up to 6.5 mm using both fixated 90° angle and angle varying from 30° to 140° depending on the model of the machine. Machines of this class are indispensable to small-scale or pilot production and are also used as a backup option for cases when more expensive CNC machine tools suffer an overload or a failure.
Notch presses are very compact and versatile. A second work area can be added in which, depending on the installed equipment, can be performed various operations of bending, punching, making grooves or radiused corners.
The monolithic frame made of iron with high hardness (Rm = 650 MPa) ensures long service life of Euromac notch presses compared to most of the analogs even if working intensively with high loads. Euromac notching machines make cuts with minimal time loss due to automatic blade gap adjustment. This innovation allows cutting metal of different thickness keeping the same high quality and free of burrs.
The Euromac equipment efficiency and innovation has been appreciated by a list of leading manufacturers who use this equipment in their industries: INDESIT, CERN, BOEING, LEGRAND / BTICINO, CATERPILLAR, MERCEDES - TRUCK PRODUCTION, ABB and others.