Guillotine shears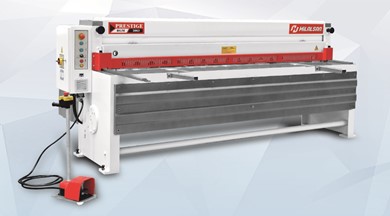 1
Maximum cutting length – 3050 mm
2
Electric Guillotine Shears with Cutting Capacity 3-4 mm
3
Increased Reliability and Great price
Profile product
3
/5
Technological flexibility
4
/5
Construction quality
4
/5
Level of technical solutions
read more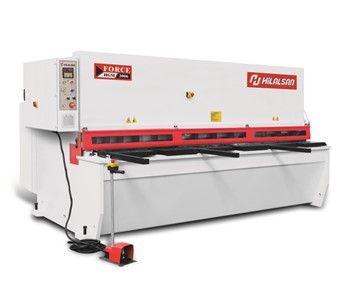 1
Maximum cutting length – 4080 mm
2
NC Hydraulic Guillotine Shears
3
Increased Reliability and Great price
8 models
HGM-2506
HGM-3006
HGM-3010
HGM-3013
HGM-3016
Profile product
4
/5
Technological flexibility
4
/5
Construction quality
4
/5
Level of technical solutions
read more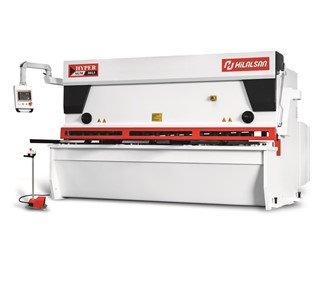 1
Maximum cutting length – 8100 mm
2
CNC Variable Rake Hydraulic Guillotine Shears
3
Increased Reliability and Great price
17 models
AGM-3006
AGM-3010
AGM-3013
AGM-3016
AGM-3020
Profile product
4
/5
Technological flexibility
4
/5
Construction quality
5
/5
Level of technical solutions
read more
Guillotine shear is a mechanical device for cutting materials. It is composed of a sliding blade set on an angle, which moves in the same geometric plane with unchanged angle of the blade. The main application area of guillotine shears is sheet material cutting in preform manufacture.
The main advantage of the guillotine type cutting devices consists in the fact that at the moment of cutting the pressure on the material to be cut is not applied over the entire length of the cut, which reduces the force required. These devices are very productive but they cannot cut sheets with thickness of more than 20 mm. Another restriction: complex parts can't be cut. However, if you need a simple incision, no method is cheaper than this.
The reliable high-tech hydraulic shears with CNC from a leading European manufacturer Adira meet all requirements for safety and efficiency. Adira machines are made entirely with components from leading European manufacturers in the factory in the city of Porto, West Portugal, which is industrially the most developed part of this country, and are 100% European product. An important advantage of guillotines made by Adira is their excellent price/quality ratio that makes these shears in demand in the markets of more than 40 countries.
The reliability and efficiency of machines made by Adira is confirmed by leading manufacturers who use this equipment in their industries: NASA, Boeing, LockheedMartin, AIRBUS, OGMA, TapAIRPortugal, AirFrance, USNavy, SSAB, ArcelorMittal, PDVSA, ThyssenKrupp, PrimaPower, Ursviken, Rofin, Bosch, Siemens, Bombardier, CATERPILLAR, FIAT, PSAPeugeotCitroen, Motorola, Blaupunkt and others.