Radio-wave Touch Probe RWP38.41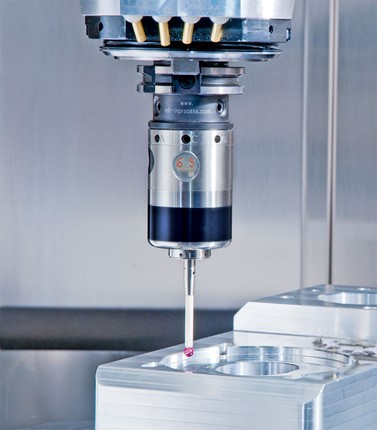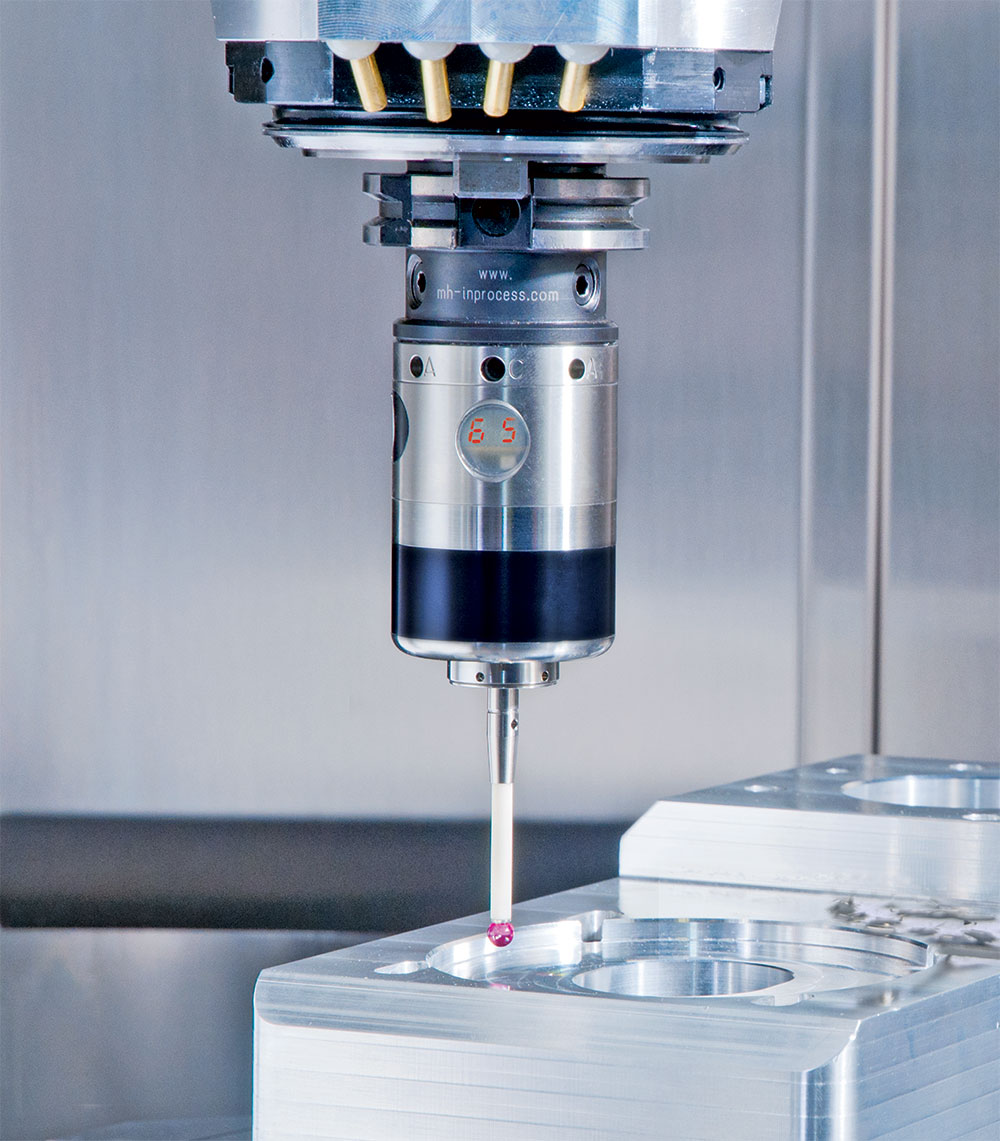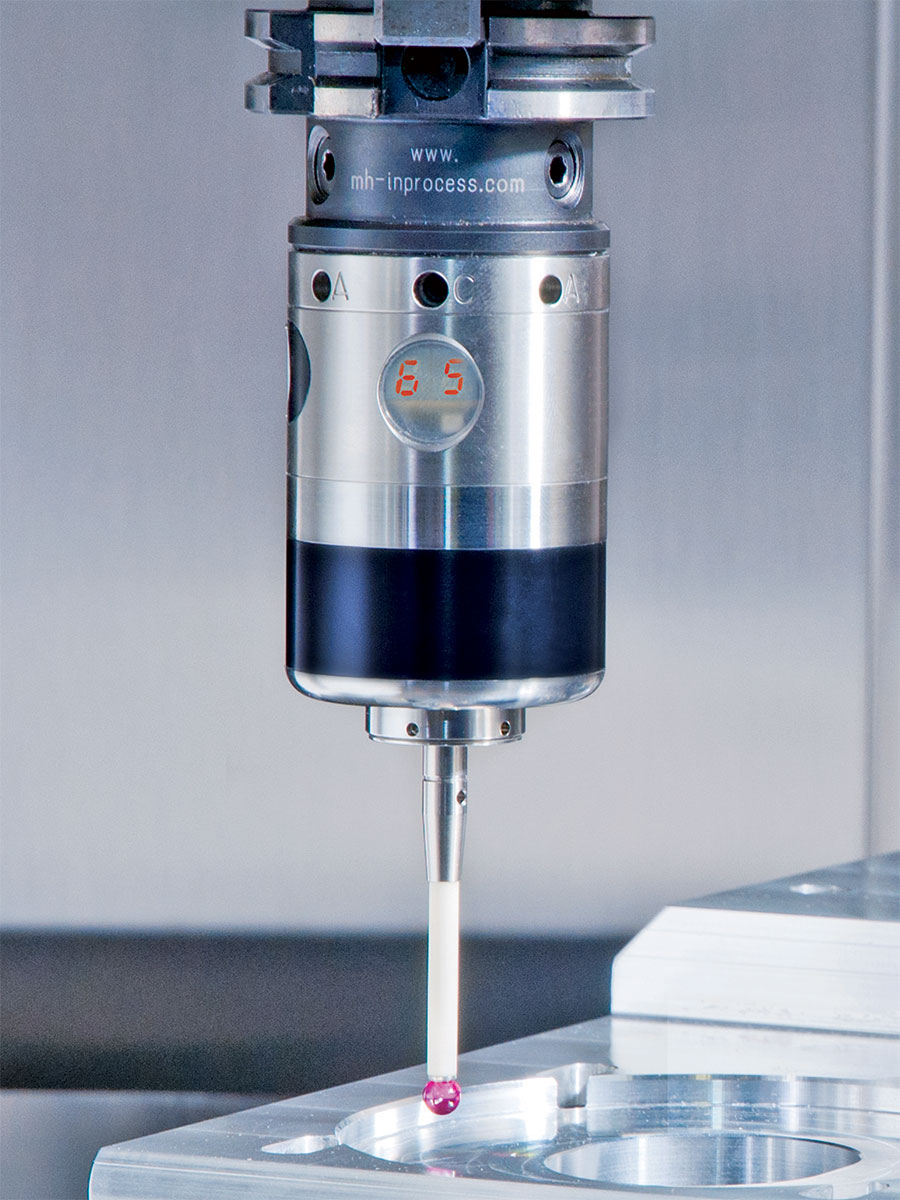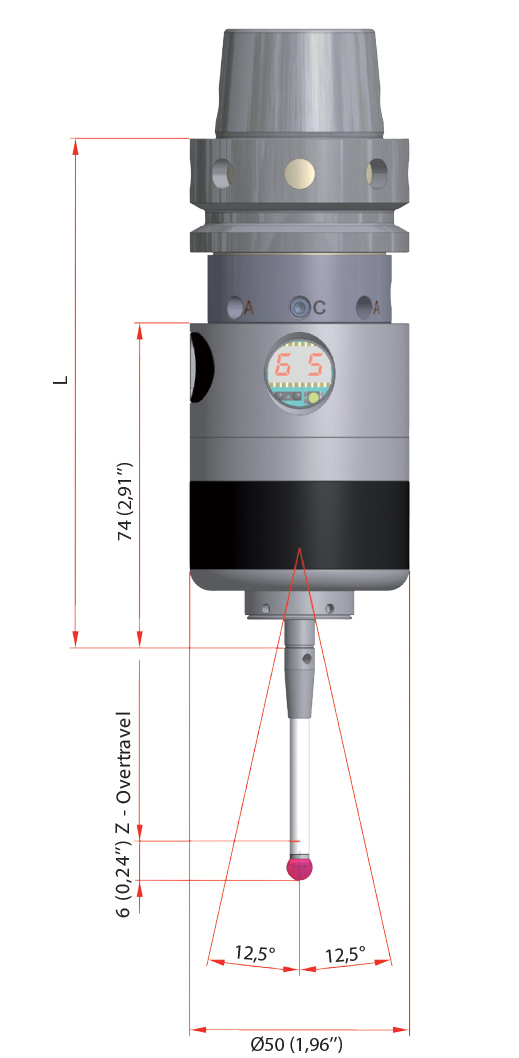 Send a request
We will send you our commercial offer
Specifications
| | |
| --- | --- |
| Unidirectional, μm | 1 (2 Σ) |
| Recommended probing, mm/min | 254 – 2 000 |
| Probing directions | ±X, ±Y, -Z |
| Max. stylus deflection, mm | X/Y ±12,5°, Z -6 |
| Trigger force with 50mm stylus | X/Y = 0,3 - 1,4 Н, Z = 2,5 - 12,5 Н, регулируемая |
| Extensions (Ø 25 mm) | 50 mm (1,97"), 100 mm (3,94"), 200 mm (7,87") |
| Power supply | 2x batteries 3,6V type ½ AA (1200mAh) |
| Battery Life Time | 325h in continuous use |
| Weight without shank, g | 460 |
| Working temperature range, °C | 10 - 50 |
| Storage temperature range, °C | 5 - 70 |
| Material | Stainless steel |
Design features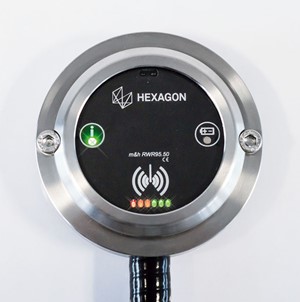 SCS technology
Features:
Highest operational reliability through transmission protocol.
Permanent check of radio channels for interfering signals.
Automatic blocking of channels by Self Channel Select (SCS).
64 radio channels in protected frequency range, proven worldwide.
433 MHz transmitting frequency – internationally approved and high-penetration.
Benefits:
No machine downtime due to interfering signals.
High-penetration.
Automatic blocking of channels by SCS technology.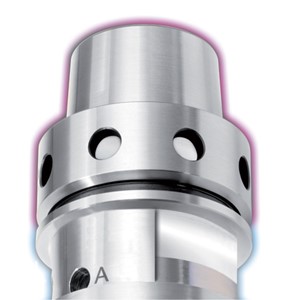 Patented thermo-lock® technology
Features:
Prevents heat transfer from the spindle to the probe.
Delivers consistent, precise measurement results even by large temperature differences.
HSK shanks with THERMO-LOCK® technology are available in various sizes.
Benefits:
Precise measurement results even by large temperature differences.
Eliminates uncontrolled expansion of the shank and probe body.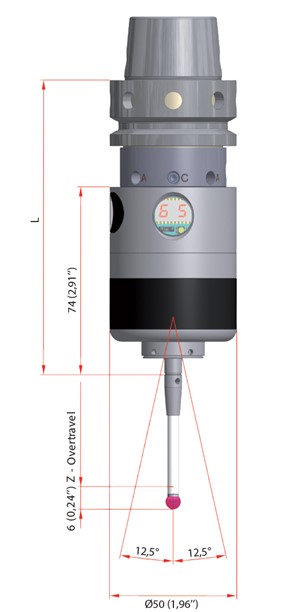 Modular construction
Probe RWP38.41 variable, modular extendible.
Slim standard extensions can be combined in 3 different lengths.
Measuring mechanism near the measuring point for highest precision.
For use on machining centres, turning/milling centres and on 5-axis machines with swivelling heads.
Activation / Deactivation
Switching on and off via radio-wave transmission.
With 3 activation codings available, "A" / "B" / "C", it is possible to operate up to 3 measuring systems, RWP38.41 and RWT35.50 with one receiver.
Trigger force freely adjustable
Measuring of thin sections with minimal measuring force.
Measuring of soft materials.
Measuring with large cross probes at max. measuring force.
No false triggering during acceleration.
Easy adjustment from the front without dismantling (patented).
Performance and process reliability
Protected frequency range, proven worldwide.
Safe signal transmission redundant transmission protocol.
64 channels freely adjustable.
High transmitting power.
Sturdy and protected
Probe housing made of stainless steel.
Double sealing of battery compartment.
High protection of measuring mechanism with chip protection lid and double, chemical resistant sealing membranes.
Measuring mechanism torsion-protected.
Operation suitable for the workshop
Easy channel adjustment by push of a button.
Digital channel display.
Quick battery replacement without tools.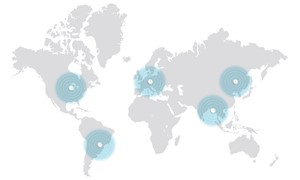 Used worldwide

Anywhere in the world our field engineers install probing systems and software solutions. Do you have questions about the products or do you need application assistance on your machine tool? We will advise and support you until your problem is solved. We offer trainings in order to give confidence to the machine tool operators. Our quick repair & exchange service for damaged probes avoids downtime. The Hexagon Metrology worldwide sales and service network offers qualified advice and local service, quickly and effectively.
Send a request
We will send you our commercial offer